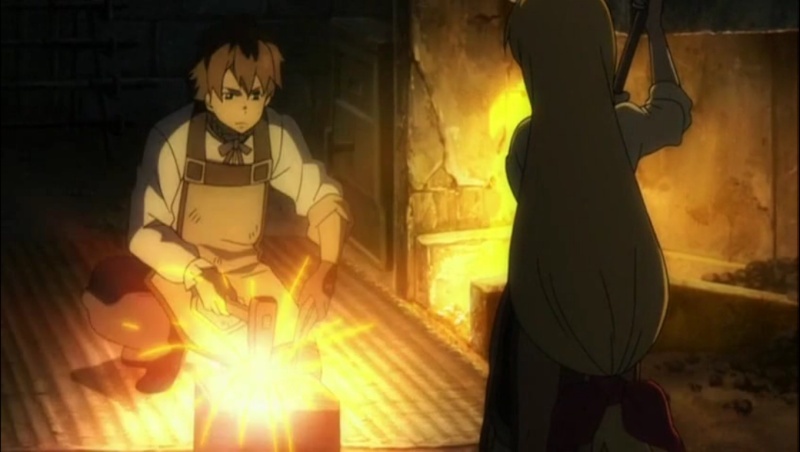 The blacksmith pounded his work for a moment longer then stood up and removed his gloves, smiling at you. "You need a new weapon or are you just registering an old one?" He asked with a charismatic grin as he wiped his brow.

Equipment With Enchantments (Abilities)


Must be filled out with the Enchanted Equipment Template, this means any weapon that has an ability of any sort (ex: swords that come back to you, quivers that never run out of arrows etc...).

Your weapon MUST have a limit to balance out the ability or it will not be accepted.

Also an enchanted weapons/armor are permitted upgrades that are found in the Tenpo Center.

Everyone gets 1 free weapons without charge, this pertains to weapons whether they are Enchanted or not.

Because of the time era this is based around, advance weaponry is generally not allowed (such as guns) but exceptions can be made.

Any piece of Equipment that has an enchantment needs to be a fairly basic ability. Closer to how spells work.

Weapons/armor with no abilities are not required to be registered as you can have them for free but they are generally far weaker than Enchanted Equipment and break easy.
Enchanted Equipment Template:
Name:
What is the name of your weapon
Appearance:
What does it look like, what kind of weapon is it, describe it or send a picture.
Enchantment:
What does it do?
Limits:
Any Limitations that the weapon may have.
Link to purchase:
If you had to purchase this weapon slot then put the link to the purchase here
Extras:
Anything you'd like to add? Put it here
Code box for Enchanted Equipment:
Code:

[b][u]Name[/u]:[/b]
[b][u]Appearance[/u]:[/b]
[b][u]Enchantment[/u]:[/b]
[b][u]Limits[/u]:[/b]
[b][u]Link to Purchase[/u]:[/b]
[b][u]Extras[/u]:[/b]
Every Enchanted weapon in your arsenal, I say arsenal but in the end you're only allowed 4 Enchanted weapons, can be upgraded a total or two times. Instead of having you filling out another Equipment template for an upgrade on an already existing piece of Equipment, below is the template for upgrading a weapon.
Code:

[b][u]Upgraded Weapon[/u]:[/b] (Name of the Upgraded Weapon)
[b][u]Enchantment[/u]:[/b] (What is this upgrade your giving the weapon? is it a New Enchantment?)
[b][u]Limit[/u]:[/b] (Limit on your new upgrade or enchantment)
[b][u]Link to Purchase[/u]:[/b]