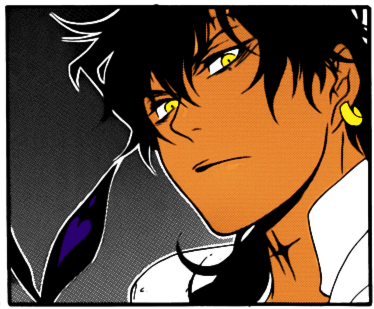 Basic Info
Name:
Thace Arsène Kolivan
Nickname:
Gender:
Male
Visual Age:
19
Real Age:
19
Personality:
Because he was raised on the Hyouden Mountains, Thace was forced to adopt an uncanny sense of focus, resilience and tenacity at a very young age. Three main qualities that he still carries with him today during the course of his travels. Very often he finds himself repeating a quote he heard on the mountains "Adapt or Die." He had to learn climb, hunt, and fend for himself on the icy cold mountains just like every other young member of House Kolivan, raised to be cold warriors and killers. A member of house Kolivan must always "Focus on the objective at hand, be resilient to the winds, and tenacious to the mission."
Being born in the house of Kolivan he was taught to never accept death, either adapt or die even in the harshest of situations and environments.  Because of this exacting upbringing Thace has grown to have a very 'do for yourself' outlook on life. Which can make him a bit selfish and greedy at times, he isn't above lying, cheating or stealing. In fact it's almost in his very nature to do so when the opportunity presents itself. If there is something that he needs, wants or desires he takes it no questions asked. It's because of this reason, why Thace is often seen with a mask that covers his entire face. He has grown to take pride in his work as a thief and assassin for hire in fact he actually enjoys it. He embraces the challenge and rush of blood it presents. Thace will only steal from people worth stealing from, people of nobility, rich uptight snobs, over paid guards and the occasional scummy shop owner.  
Despite having a lot in shared with a common thief, Thace is not without a few redeeming qualities. Though the mountains forces one to change certain qualities about themselves, there are some characteristics Thace has definitely kept. His overall attitude is that of young man with a very laid back and outgoing look on life taking anything that comes his way with stride. It often comes to a surprise that beneath the mask is a witty, sharp tongued, young man with a passion for adventure and life. A unique contrast he only shares with his mother, his homeland being so cold and bitter but his persona being quite warm some say it matches the golden auburn color of their eyes.
When not playing the role of thief and assassin for hire, Thace can be found mostly enjoying the fruits of life. At elaborate places made for fancy and lavish living, spending coin after coin with little to no thought in between. According to him life is short and one must enjoy all of life's pleasures while one can. While in the presence of others Thace is quite charismatic and joyous, many say that he is sly as much as he is charming. When out of coin he will use this very sly and charming nature with his barbed tongue to talk his way out of most situations he finds himself in. Often never facing the repercussions to his actions. Because of this some would say that Thace is still a child with some growing up to do. In spite of his easy going and fun loving nature Thace isn't incapable of being deadly serious when need be. When reflecting on one's self Thace knows he doesn't play the role of a hero nor does he try to, he literally kills and steals for a living. But he's not necessarily a cut throat villain either. He does carry a sense of honor and slight moral compass.
In battle Thace embraces adaptability, versatility and the instinct to observe over anything else. His fighting style matches this forethought heavily. He has pioneered his fighting style to observe everything and be able to react and adapt to it. His own movements are swift and precise lethal when executed properly. The versatility stems from the thought of being formless, and unique. He absorbs what is useful, discards what is not and adds what is uniquely his own.
Physical Traits
Height:
6'2
Weight:
180
Hair Color/Length:
Black/Shoulder length and wavy
Eye Color:
Golden
Appearance:
Without Disguise-
A tall young man with prominent features, Thace Kolivan is quite handsome. He has rich brown skin that he gets from his mother. Being born in Hyouden his skin color is very rare and almost never seen making him stand out easily amongst a crowd back home. Through his travels to the other lands with warmer weather he notice his skin color isn't as unique but still in certain towns allows him to be easily extinguishable. Because not many people have his shade of skin he is quite proud of the color of his skin going hand in hand with his height. Thace stands at a respectable 6 feet and 2 inches, which is taller than most on average. He takes a little pleasure in the idea that most have to look up to him when he is standing fully straight.
Perhaps his most defining physical characteristic is his golden auburn colored eyes that he also got from his mother. His eyes are very striking to casual onlookers and the like, time and again being called beautiful and serene.  His eyes do give way to his sly like nature often using them to charm women or talk his way out of a situation. An unusual effect his eyes seem to have is showcasing two contrasting moods and emotions. Thace can often give off a gaze that is cold and warm at the same time, more elaborately showcase calm icy tranquility right over a blazing fit of anger. Because of this, one may think that Thace's eyes are very easy to read but infact they are quite the opposite. It is near impossible to assume what he might be thinking at all. Thace has often used this little trick to throw people off and catch them off guard. One's that know Thace and his mother well have a nickname for the eyes, calling them the Arsene eyes.
When not in disguise Thace's whole body language can be very different. His posture and body movements are a lot more free and wild, he makes intricate use of his hands for expression. He never really stands still, always got his hands on something or moving about. He isn't afraid to add a little dance to his step when strolling about town or make expressive patterns with his fingers when in speech. Though this has become his natural way of body language throughout the years, the true reason for this is for distraction. Misdirection is a tool that every great thief must master the same goes for Thace, if he wants to pit pocket someone he must control their entire gaze. "If they are completely focused elsewhere and distracted they are no longer focused on their pocket. Tap from here take from there."
As for overall body, Thace is in incredible conditioning. Broad wide shoulders and slim waist, giving him the near perfect V-taper shape. He engages in intense regular work outs to keep his health and body in their prime. Athletics, acrobatics and martial arts training keep him on his toes during his jobs, and when it comes down to combat.
With disguise- When on a job Thace always wears a dark colored stealth suit, which is built for stealth, infiltration, and combat. His mask is designed to completely cover his entire face, and change the sound of his voice. A black hood continuously placed over the mask in order to blend in the shadows easier. Over time his stealth suit does make various aesthetic changes as far as mask changes, or variations to the sash and chest pieces but the overall look stays the same.
When suited up Thace's body language changes, he becomes a lot more efficient in movement and execution when on a job. His actions sharp, precise and quick only when he is extremely confident and only when no eyes are on him does he let his zest mix into his movements.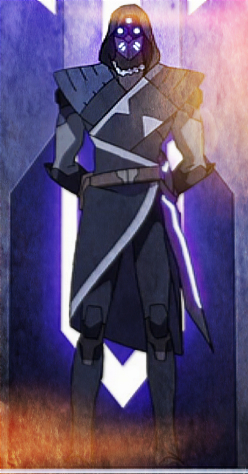 Character Information
Character's Race:
Human
Racial Trait:
Eyes of Arsène:  Thace's golden colored eyes are more than just for show he has the same ability of his mother. They are capable of seeing in a near 360 degree view, with a blind spot on the right side of his back neck.
Country:
Hyouden
Primary Element:
Arcane
Individual Statistics:
-Strength: Bandit
-Speed: Warrior
-Endurance: Militia
-Mystic Power:Fighter
-Intelligence: Soldier
Character History
Background:
Spoiler:


"Adapt or Die. Knowledge or Death."  The mantra of House Kolivan, that has been with them for centuries. A constant repetitive hymn that always found itself in young Thace's ears when he was a child. Young Thace constantly repeated this mantra to himself while growing up on the Hyouden mountains, he had to learn and adapt quickly or face death.

Karsana Kolivan gave birth to Thace in the middle of a snowstorm on one of the high mountain peaks in Hyouden. With her mother and brother present, the boy's father was nowhere to be found but that mattered none. Because when upon first glance of the newborn baby Thace anyone on the high mountains could tell he was Karsana's son with those fiery golden eyes and milk brown skin. They even shared the same fox like face, "The face of a troublemaker." Karana's proud mother Lyanna said. Even Karsana's brother Ulaz agreed that the boy was definitely going to be trouble, and trouble he was.
Karsana was never the slow down type, a month and a few weeks later after giving birth. She was already climbing mountains and hunting again with the newborn Thace strapped upon her back. His eyes following her every movement and stride. With every successful jump, hike, hunt or run an adorable baby laughter escaped his lips much to Karsana's surprise having her believe that perhaps newborn Thace was enjoying this a little too much. It was not long before Karsana found herself talking to the infant with tips on hunting and climbing, believing full well that he could understand her. But that was something only time could tell, and much to everyone's surprise but her own it did.

At the tender age of nine it was a Kolivan house tradition to have every young member of the house
climb one of the Hyouden mountains, hunt for food and make way back to the camp using everything they were taught till now. This was one of the many Kolivan house challenges, if one could not complete it they were not worthy of being part of house Kolivan it was also a rite of passage. Upon completion the young member would officially be a part of the House. Thace was eager to take the challenge even though the he was two years younger, something that even had his mother worried. But upon looking into his eyes telling him not to do it was out of the question. Thace was going to use the climbing and hunting tactics that his mother taught him, his skills and with bladed weaponry from his uncle, and the art of mending one's aura and focus from his grandmother. He had complete confidence that he was going to succeed; he didn't let the difference in age deter him at all. When the trial had started he had a slow start, unable to find his stride. He was on the edge of the mountain, the other older boys ahead of him and their lead only getting longer. The icy cold winds hitting his face and body, Thace was about to call it quits perhaps he wasn't ready for this after all. But he heard a loud cry from higher up on the mountain a voice he knew well, Tsira a young girl misplaced a step and found herself falling down the mountain. Witnessing this Thace regain his composure, he was the last one and the only one that could save her. He repositioned himself and swung one of his ropes to wrap around her body. She caught hold of it, he used the rope to get her back on the cliffs of the mountain safely.

He made sure she was ok, and together they promised to complete the trial together. They used each other to finish the mountain and catching up with the others. When pressed for food down in the forests they together fended off a thick hide sabretooth and together they completed the trial. After this Thace and Tsira remained pretty close friends, often going hunting and scouting together in the fields and mountains. They used each other brush up their skills and become promising young Kolivan members.
10 years later Thace and Tsira have become near masters of the hunt and the mountains. Exceptional warriors, even by Kolivan standards. It was only a matter of time before they started to speak of dreams and goals they wanted to set for themselves outside of Hyouden. Tsira wanted to travel across the lands and explore other regions meet new people and races alike. Thace was more laid back of course he had thoughts but he never truly had a passion for leaving Hyouden like Tsira. It was her passion and drive that started to change him into leaving as well. Leaving the Hyouden Mountains as a Kolivan wasn't forbidden but frowned upon by the elders.  But this wasn't gonna stop Tsira the elders knew full well that she planned on leaving the house behind. So they decided to send her on one last mission before her final day a mission deep into the frozen fields that should have been a team job. Tsira went on the job unknowingly and alas never made it back.

Thace awaited her return for days before finally coming to the conclusion that something went wrong. He started to do a little investigating, he spoke with the elders to find out that they had sent her on a job that she shouldn't have done alone and the way the elders spoke of her he had already came to her conclusion.

The arrival of the scouts only confirmed what Thace had accepted days ago, they came back with her belt full of tools and no body nearly confirming that Tsira probably perished somewhere in the deep frozen fields. Thace full of anger he wasn't going to standby and do nothing while his dearest friend was lost and thought to be dead. He made an announcement and made it clear that he was going to search for Tsira no matter what even if it did lead to his own death. It was later on that evening Thace was the things he needed to go search for Tsira. When her father came to his room, holding her diary. "Thace I know I cannot stop you from leaving, but I believe Tsira would have wanted you to have this. Especially her lest entry right before she left.

Thace took her diary and her father left him with it. He turned to her last entry and began to read.

"So today is my last mission here in Hyouden before I finally leave this cold and bitter place. I got everything packed and ready to go, but my best friend Thace. He's still being a loser about the whole thing. I know deep down he wants to leave just as badly as I do. That's why I planned the night when I get back I'm going straight to him and forcing him to leave with me right then and there. No plans no mission no thought process behind it. Truth be told I want him to leave this place more then I want my own self to. I know he would love it out there, well I can't know that much cause I have never left myself but I have strong feeling that out there is where he needs to be…where I need to be…where we…
Well anyways that's my plan were outa here as soon as I return. Hmmmm I probably should leave this here just in case. Thace hasn't tried to read my diary in years but you never know. Tonight could be the last time I see him. For whatever reason Thace that I do not make it back, promise me you will leave. Don't even try looking for me, cause chances are I took off on my own and left a little something to throw the scouts off. Just go Thace, leave Hyouden. Discover and explore I know its what your heart tells you. Forget the mantra they've beaten into our skulls. Forget "Adapt or Die." Follow your dreams and be free."

Tears started to roll down his face as he read Tsira's last entry. It was almost as if she had meant for him to find it. With his bags packed and ready to go, he took off leaving a note for his mother, grandma and uncle. He took off but not after Tsira on a journey of his own onto the lands of Abraxas.

--
Extras! (optional!)
-Thace is based off of Spike Spiegel from Cowboy Bebop.
Source:
Takai aka the grim reaper O_O